M-Learning in Education@ECU
We had a great evening tonight in the first two session of our Twiilght Seminars@ECU, attended by over 350 teachers and school leaders.
Click here for a report on the M-Learning@ECU Events  Teaching with technology
The topic was M-Learning, "Learning using Mobile Devices". We discussed the research findings in Phase 1 of the TPACK iPads in Schools Project. This research project investigates teachers' needs as they work in new ways with iPads. This research is funded through my research fellowship and research grants and awards that I have received from Edith Cowan University. I discussed the rationale and theoretical background supporting the use of ICT in classrooms and gave examples of how school students embrace new technologies fearlessly.
Specialist consultants from from AISWA, Catholic Education and the Department of Education gave valuable insights on exciting projects and the teaching and learning strategies used in their schools.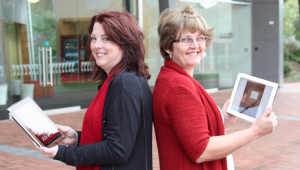 Louise Cimetta and Caroline Mullins from Catholic Education enjoying M- Learning@ECU
Some of our fabulous teachers and industry colleagues shared their experiences introducing iPads and BYOD in schools, and told us about their favourite apps.
Tricky Tips on managing work flows, transferring documents to other devices, and how to select apps provided much needed technical information for all iPad users.
Thanks to Sarah, Ian, Doug, Jamie,Shaloni, Michelle, Louise and Jan for inspiring snapshots of their work.
Thanks to Madlen and the prac team helping organizing the event.